As you drive up the winding mountainside roads of Trinidad's North Coast, you'll come across picturesque beaches, perfect for relaxing, surrounded by vibrant coastal waves. Each beach can be enjoyed at your leisure or combined for a fun-filled guided tour or road trip.
BLANCHISSEUSE
Scenic and energetic waves await surfers at Blanchisseuse. As the Marianne River flows into the sea, beachgoers are welcome to swim and wade at their leisure. From March until August the beaches belong to the leatherback turtles who lay their eggs here. You can watch this natural spectacle on a guided tour.
MARACAS BAY
Probably the most popular beach in Trinidad is Maracas Bay on the North Coast, a winding 30-minute drive along the mountainside from the capital city, Port of Spain. Visitors enjoy the panoramic vistas of the palm-fringed beach with its energetic waves. No visit to Maracas Bay is complete without a trip to the vendor booths for bake and shark sandwiches – fried bread filled with seasoned fried-shark fillets, vegetables, fruit and an assortment of condiments ranging from sweet to very spicy.
L'ANSE MARTIN BEACH
Wedged between Blanchisseuse and Las Cuevas Bay, visitors will find this sheltered beach. Escape the crowds and enjoy the beaming sun rays at this hidden gem. L'anse Martin beach is found by accessing a tucked away strip along the North Coast road, leading you straight to this sandy getaway.
PARIA BAY
Adventure seekers can journey through a gorgeous coastal hike via Blanchicheusse or Matelot to get to this beautiful beach. Enjoy the splendour of natural formations like Turtle Rock as you voyage down the coast. Enthralling waves await visitors, who can admire the beauty of the Paria Arch along this bay.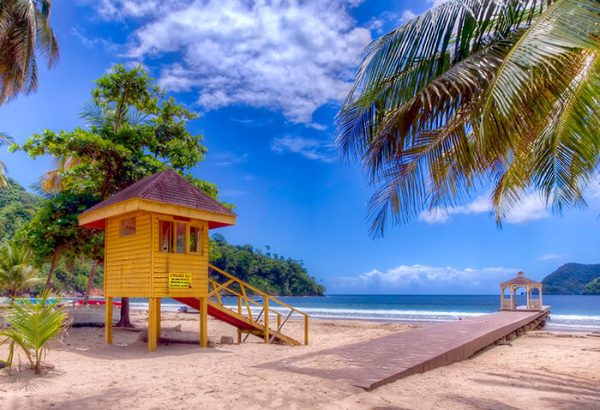 Maracas Bay / Photo Credit: Nadia Sanowar
LAS CUEVAS BAY
Las Cuevas got its name because of the many caves you can find along the two-kilometre stretch of beach. Las Cuevas beckons with its clear waters and gently lapping waves, making it the perfect escape for a lazy day.
YARRA BEACH
Off the beaten path is the serene Yarra, ideal for relaxing on its long sandy beach. As you make your way down the rugged path, visitors will be greeted by beautifully arched coconut trees, perfect for capturing photos. Harbouring such powerful waves, visitors can opt to swim in Yarra river, located just steps away from the beach.
TYRICO BAY
Within a stone's throw from Maracas Bay, is a beautiful spot of sand to get away from the crowds. Great for relaxation and swimming, making it ideal for any visitor.